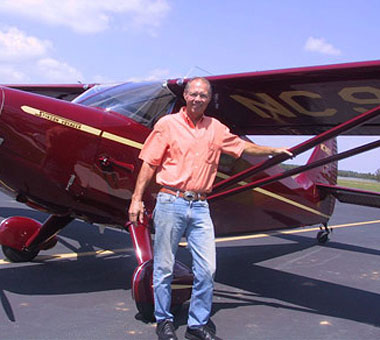 It is with a heavy heart that I write this tribute to honor our wonderful friend Butch Walsh. Butch passed away on May 11th, 2006 at his home near Arrington, Virginia. His wife Carol and his daughter Terri Ann were by his side.
Butch was known by family and friends as a talented and gifted antique aircraft restorer, auto mechanic, pilot, farmer, and United States Marine. Those who knew him saw his passion to use his God-given talents in everything and everyone he touched. He was nationally renowned as the Stinson "Guru" and shared his extraordinary talents with numerous aviation organizations. He was the former owner of the Kar Klinic here in Marion before moving to Virginia in 1978.
In the summer of 1991, I called Butch and Carol and shared with them our idea to start the annual Fly/In Cruise/In. Butch said "We will be there" and year after year they flew more than 4 hours from Virginia to take part in our annual event. Over the years Butch flew in and shared with us several award winning Vintage Stinson Airplanes that he had personally restored, including his well known 1947 Stinson N389C, an airplane he took his second airplane ride in and has owned continually since the early 1970s. He also flew in N6233M, a 1947 Stinson 108-3 that was named Grand Champion Classic at Oshkosh, Wisconsin's EAA Fly/In (1999) and at Sun N' Fun in Lakeland, Florida (2000). Then again in 2004, Butch flew into Marion with yet another double Grand Champion Stinson N949D, a 1947 108-2 that earned top honors again in Wisconsin and Florida.
Personally, Butch was the most talented man I have ever known. He was a wonderful friend who would do anything he could to help anyone. He will be missed by all of us who knew him. He graciously shared his love of flying with many people who had their very first aviation experience flying with him. On behalf of the annual Fly/In Cruise/In, we want to express our deepest sympathies to his devoted wife Carol, his daughter Terri Ann, son-in-law Barry and granddaughters Mikayla, Ann-Claire and Amelia.
In memory of our friend Butch Walsh, his 1947 Stinson Voyager N389C and a 1923 Ford T-Bucket that he completed in October of 1971 will be used as the official logo of the annual Fly/In Cruise/In.